Host Your Event at Art Works!
In November 2022,Art Works will no longer host weddings and parties at the art center. Our focus will be on hosting art centric events. We look forward to providing a space for immersive exhibits, installations, interactive exhibits, poetry readings, classes, seminars, and lectures.
For now until October 31, 2022 you may book the facility for parties.
Gold Package – 80 guests, 7 hour rental, $1300
Platinum Package- More than 80 guests, 10 hour rental, $1300
Call Frankie, our Event Administrator on our direct line: 804 363-7174
The art exhibit in the galleries will enhance your event and since the art changes every month, your event will be uniquely yours!
Our staff will work with you on planning from the beginning to the end and will be there attending to your needs on your big day.
For group and company meetings – please call for a quote (804.291.1400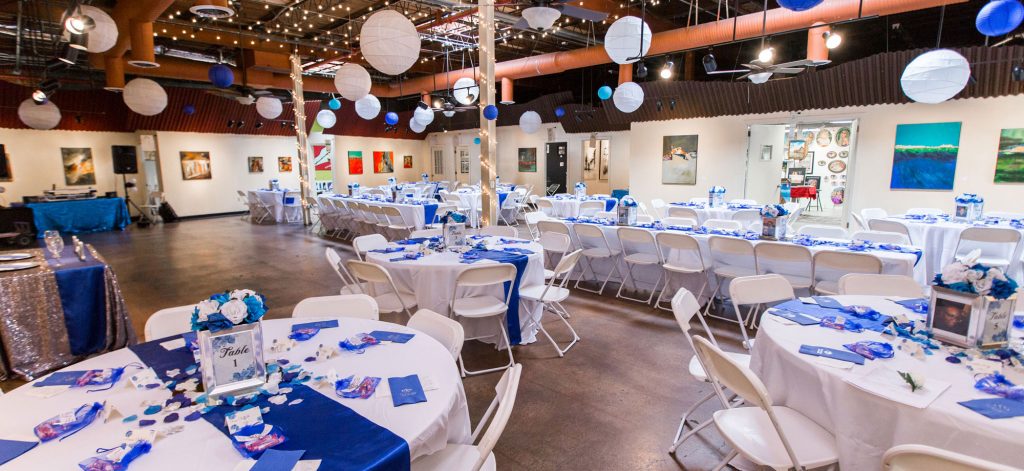 A stylish, artful 3,200 sq ft. space with skylights and exposed ceilings—very Richmond—very urban. There's plenty of space for a DJ or band, a dance floor, a photo-booth and comfortable seating for your guests. There's twinkle lights in the ceiling, lights on the columns and special lighting to showcase the artwork. This space allows you to focus on the important aspects of your event since very little decorating is necessary.
CONTACT US
Our staff and event managers will ensure a smooth event and can help with planning, coordinating vendors, and will be onsite throughout your event.
Use the form below to tell us about your event. If you need immediate assistance, call us (804) 363-7174.
Please provide as many details as you can, and we will be in touch with you promptly to discuss your plans.